Objectives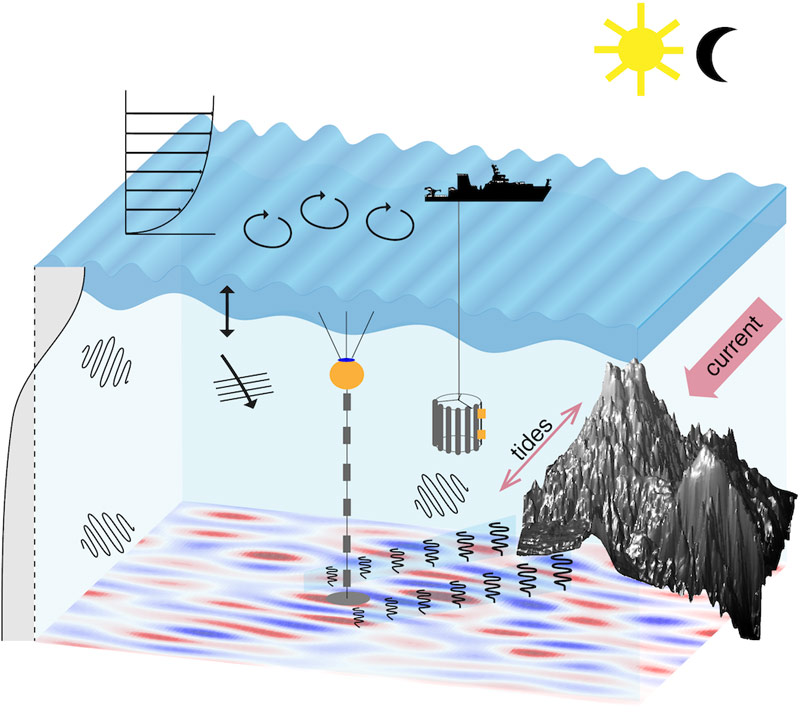 Internal gravity waves in the ocean are generated by tides, wind, and interaction of currents with rough seafloor topography. Models predict a global energy supply for the internal wave field of about 0.7–1.3 TW by the conversion of barotropic tides at mid-ocean ridges and abrupt topographic features. Winds acting on the oceanic mixed layer contribute 0.3–1.5 TW and mesoscale flow over rough topography adds an additional amount of 0.2 TW. Globally, 1–2 TW are needed to maintain the observed stratification of the deep ocean by diapycnal mixing that results from the breaking of internal waves. Ocean circulation models show significant impact of the spatial distribution of internal wave dissipation and mixing on the ocean state, e.g. thermal structure, stratification, and meridional overturning circulation. Observations indicate that the local ratio of generation and dissipation of internal waves is often below unity and thus the energy available for mixing must be redistributed by internal tides and near-inertial waves at low vertical wavenumber that can propagate thousands of kilometers from their source regions. Eddy-permitting global ocean circulation models are able to quantify the different sources of energy input and can also simulate the propagation of the lowest internal wave modes. However, the variation of the internal wave energy flux along its paths by wave-wave interaction or refraction by mesoscale features as well as its ultimate fate by dissipation remains to by parameterized.
This project aims to quantify the generation and propagation of internal waves in the global ocean, study the pathways of radiated low mode internal waves including processes operating along the pathways, identify regions of sources and sinks, estimate the contribution to local dissipation and identify the involved processes.
For these purposes we will use
dedicated global high resolution (1/10° or higher) model runs, with idealised forcing mechanisms
observations of internal wave energy fluxes along paths where satellite altimetry shows beams of converging low mode internal waves
and a combination of the model simulations with the available observations
to produce the best estimate of the global distributions of sources and sinks needed for an energetically consistent model of the diapycnal diffusivity induced by internal waves breaking.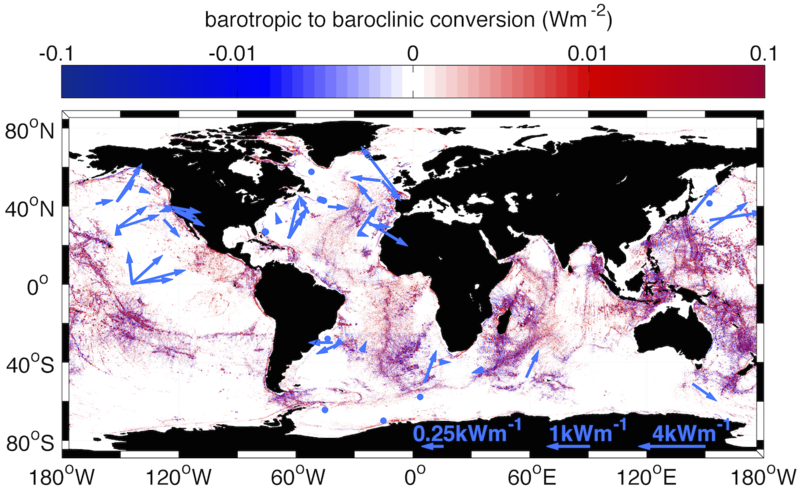 Publications
No publications available.