Home
Discover
Expeditions
"FS Sonne" reaches first mooring site
The research ship "FS Sonne" cast off on March 20 in the North Sea and will be on the Atlantic Ocean for 67 days to do research activities and collect data from the mooring stations.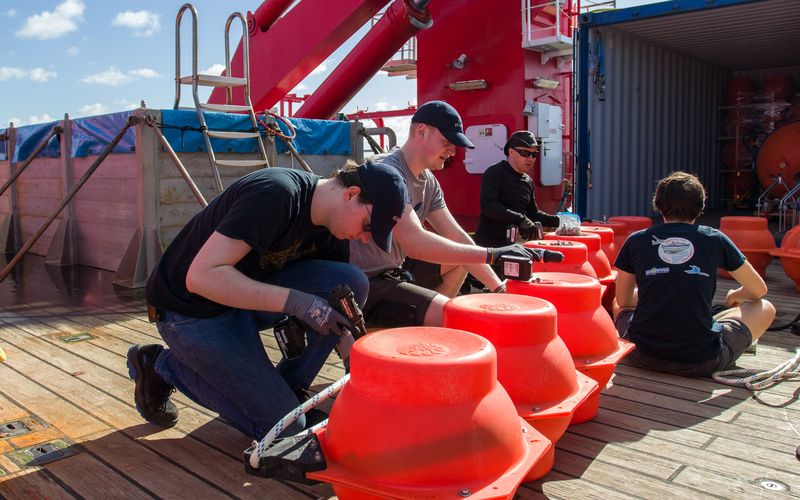 After 21 days of sea traveling in the Atlantic Ocean and even crossing the equator, the German research vessel "FS Sonne" finally reached the first out of many mooring-sites of University Bremen's Institute of Environmental Physics. The research ship, which is providing its services in the world's oceans since 2014, reached the station some 700 sea miles away from mainland. Here, the researchers are anchoring a rope of 5 km length and a weight of more than 1 ton on the seafloor. There are several measuring instruments on a so-called mooring, that will also provide the TRR 181 with important information.
In order to keep it flowing despite of this massive weight, the crew had to tie up lots of orange balls with a buoyancy of 25 kg each as floating units on the rope. Measuring instruments of all kinds are installed on this floating rope to collect data about temperature, salinity or ocean currents. On board of the "FS Sonne" the crew has been preparing, calibrating and screwing together the installations for days already.
Watch the video and the photo gallery below to go up on deck of the "FS Sonne"!

Here you also find a blog about the mooring rescue expedition (German only)
Tying up the bowls on the mooring-rope:
Photos and videos: Knut Heinatz