Home
Discover
Expeditions
Investigating Tidal Energy in the Subtropical Atlantic
In July/ August 2017 a TRR 181 research team supervised by Dr. Maren Walter from University Bremen explored the dispersion of Tidal Energy along a path from the southern Azores to the Cap Verde Islands on board of the research vessel Poseidon.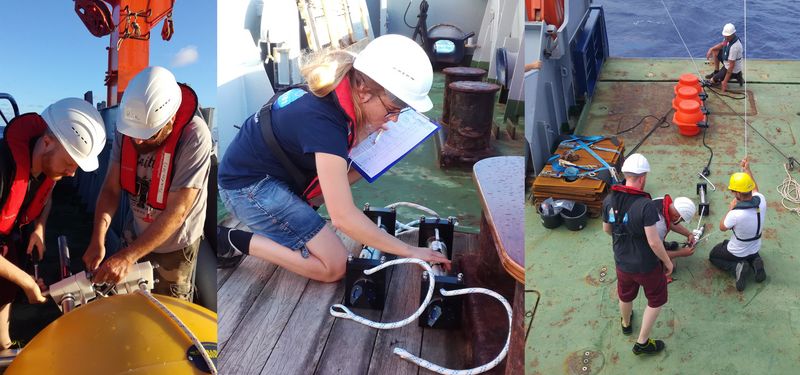 This summer,W2 scientist Dr. Maren Walter led the 516th cruise of the research vessel (RV) Poseidon to the subtropical east Atlantic south of the Azores, starting July29 and returning to harbour August18.
During the three week cruise starting and ending in Ponta Delgada on the Azores, there were nine people on board, scientists and students from Bremen and Hamburg working in the TRR 181 projects W2 and W1.The task of the cruise was to measure energy fluxes along a tidal beam that emanates from the seamounts south of the Azores and was identified prior to the cruise using satellite altimetry. Seven times series stations were occupied along the tidal beam with CTD/LADCP profiles to infer internal wave energy fluxes. Additionally a mooring was deployed within the tidal beam to observe long-term temporal variability of the energy flux. It is equipped with current meters and temperature loggerto record data over the course of one year. It will be recovered during the next cruise in May 2018.
Would you like to know more details about the cruise?
Weekly reports written by Dr. Maren Walter (German only)
Photos: Janna Köhler, Jonas Löb, Florentina Münzner, Simon Rümmler