Opening of first TRR Theater play "Oceanview Suite" in Hamburg
On Wednesday, Febuary 26, our first output of the ART&SCIENCE Collaboration with art grad students kicked-off at houseboat "Schute" in Wilhelmsburg, Hamburg. It was great success - for the scientists and for the non-scientists!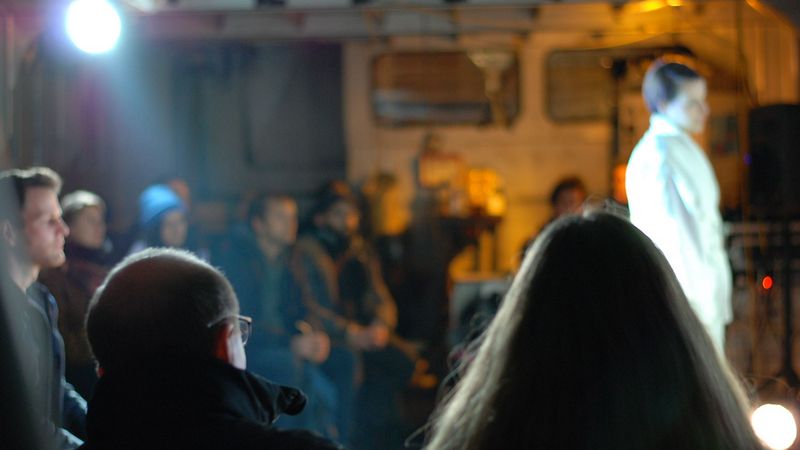 It was a wonderful evening: After we had a day full of science at our review rehearsal in Hamburg, a group of scientists went off to "Schute", a boat in Wilhelmsburg, Hamburg. Not to go on a cruise, but to see a theater play!
We were very excited to see the first result of the collaboration of our scientists with artists - and haven´t been dissappointed! It was a great performance, the atmosphere on the boat was maritime and the discussion afterwards about the collaboration process very inspiring. We are so lucky and hope to have much more of these collaboration projects - to inspire more people to think about the work of researchers in general but also about our specific topic "energy transfers".
In the picture gallery you can find some impressions from the evening.
You can watch the recording of the play here in our Youtube channel.
The discussion with the writer Meera and scientist Friederike you can watch here.
OCEANVIEW SUITE is the monologue of a woman who, disgusted by humankind, has retreated to a hotel room with an ocean view. There, in this place of decadence and alienation, she tries to overcome the border to the non-human. In the process, she encounters inner waves several kilometres high and heavy turbulence, which causes the deepest and coldest layers of herself to rise to the surface.
mit Adele Vorauer
Konzept, Video, szenische Einrichtung: Meera Theunert
Musik: Pedro González
Licht: Lars Kracht
wissenschaftliche Mitarbeit: Friederike Pollmann
Project coordination ART&SCIENCE: Jennifer Fandrich