COMMODORE Conference a full success
After the great success of the first COMMODORE Workshop in Paris, the second workshop was organised as the Hamburg COMMODORE Conference during January, 28-31 2020 at MARKK (Das Museum am Rothenbaum – Kulturen und Künste der Welt).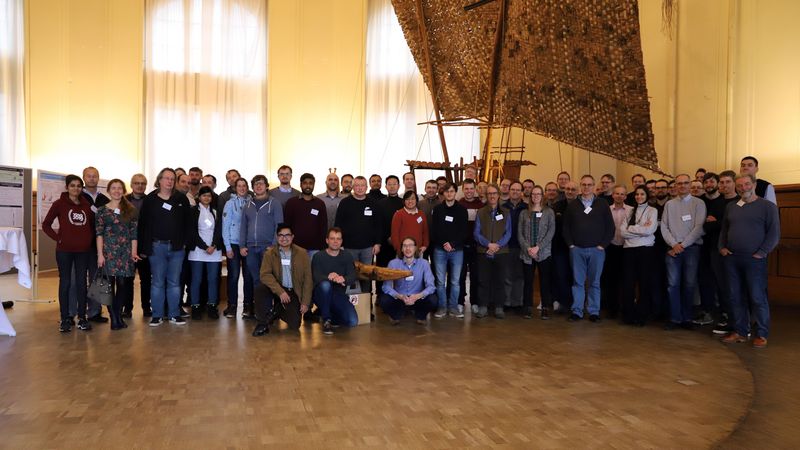 After the great success of the first COMMODORE Workshop in Paris (Meeting report here) the Hamburg COMMODORE Conference has been jointly organized by the SFB-TRR 181 "Energy Transfers in Atmosphere and Ocean", the Leibniz Institute of Baltic Sea Research (Warnemünde, Rostock) and Inria (Grenoble, France). This time, the venue was special: the Conference was hosted in the historical lecture hall of the impressive Museum of Cultures and Arts (MARKK) and the participants could roam through the exhibitions during the breaks.
During the four days (Jan 28-31), the focus of the COMMODORE Conference was on numerical solution techniques of the partial differential equations that govern the ocean circulation from coastal to large scales. The almost 70 participants shared their experience on numerical model development, perspectives on future model developments and common test-cases to evaluate numerical models. Besides ocean modellers also atmospheric modellers and numerical mathematicians contributed to oral and poster presentations, during the latter the discussions profited a lot from drinks and snacks served in the poster hall directly besides an impressive Polynesian sailing boat. Discussions during the conference were vivid, engaged and partly controversal, and during three dedicated discussion slots, the topics of "Updates on the COMMODORE Initiative", "Validation of large ocean model simulations" and "Test cases for ocean models" were debated in plenary.
In the closing remarks the organisers expressed their sadness about Brexit happening already nine hours after the end of the meeting and made some encouraging remarks towards the participants from Britain.
The atmosphere was very inspiring and it was felt that COMMODORE brings together a unique community where scientists can frankly present ideas about numerical methods, parameterisations and model development strategies. It was therefore decided to further continue COMMODORE as an international biannual workshop series. The next meeting will be in Boulder (Colorado) at NCAR during April 2022.
On our workshop website you can find the presentations with permission given to upload. Thanks to everyone who made this workshop happen!
Find some impressions in the picture gallery below.