Talk at event series SCIENCE GOES PUBLIC in Bremen
Our PhD student Jonas Löb talked about his PhD topic "Interne Wellen – Monsterwellen in der Tiefsee" in a pub in Bremen at event series SCIENCE GOES PUBLIC.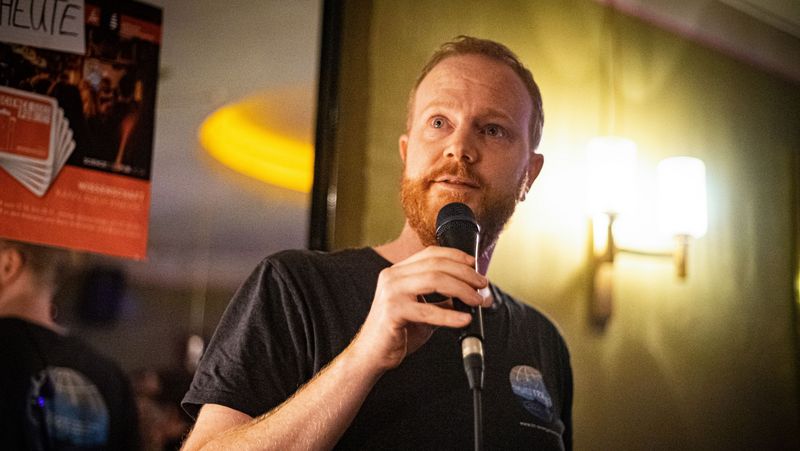 Entertaining science in 30 minutes. You want some exciting insights into unknown worlds? SCIENCE GOES PUBLIC! satisfies your thirst for knowledge. Original science topics are presented twice a year in selected pubs and bars in Bremerhaven and in Bremen in a humorous way - by scientists.
One of these scientists was our PhD student Jonas Löb from Bremen University. He held a talk and had luckily a very interested audience - people were standing outside to get in the pub. This shows how important these kind of entertaining outreach events are - because people are interested to know more about scientific topics.
We asked him some questions about the role of science communication and the connection of science and pubs:
What was the talk about?
The talk was about the fundamentals of internal waves. I basically tried to address my science for a public in a cozy and relaxing environment like a pub. I structured the talk in 3 sections. First, what are internal waves, where they are generated, and described their properties. The second part was about why are internal waves an important topic for scientist and what is the goal of our TRR181. In the last part I talked about how internal waves can be measured and how that exactly works on a research vessel.
What do you like talking about your science?
I do not necessarily like to talk about my science in public, but I see it as a kind of obligation which you have to do as a scientist. I think it is the right of every taxpayer to get also information about the knowledge we scientist create with their money and that this knowledge is not exclusively for other scientists. It also helps for the acceptance of science in the broader public in general, if everyone can access the information you can provide. But of course it is very nice to receive such nice feedback and appreciation.
For every interested scientists: How was the collaboration process: did someone approach you or was it through your initiative?
I got directly asked from our P.I. Maren Walter who was asked from the responsible for public relations at the MARUM at University Bremen. So it was more a coincident that I participated but I really enjoyed it and I can only recommend to do the same. Should anyone be interested in presenting themselves and their science, I am happy to pass this on, or you just visit their homepage sciencegoespublic.de.
What do you like most of about the connection of science and pubs?
Free drinks! Jokes aside, it was really nice to give a presentation in a such a different environment without any presentation. Not having any pictures, graphs or tables really motivates you to think about what exactly you want to tell, in which context and how you explain things in a way that everybody understands. This was also the biggest challenge, but a very interesting one whereby I learned a lot. Furthermore, people really listen to you. If you are on your standard conference the majority of the people is often not focused only on you and your talk. They work, write emails or run in and out all the time. In this format it is really only about you. Another thing I very much noticed is the diversity of the people who were there to listen to my talk. It is also not so bad if you make mistakes. Everybody just wants to know what you have to say, so they are very warm and friendly. And even if you make a mistake, nobody will notice, besides your colleagues ;).
Thanks to Jonas now science-interested people in Bremen know more about internal waves and the importance of fundamental research in this field. Well done!