Report - Spring School 2023
After we had such a wonderful time last year in Plön, we were happy that for this year the jouth hostel at Koppelsberg was again available for our RTG ENERGY Spring School from May 10-12.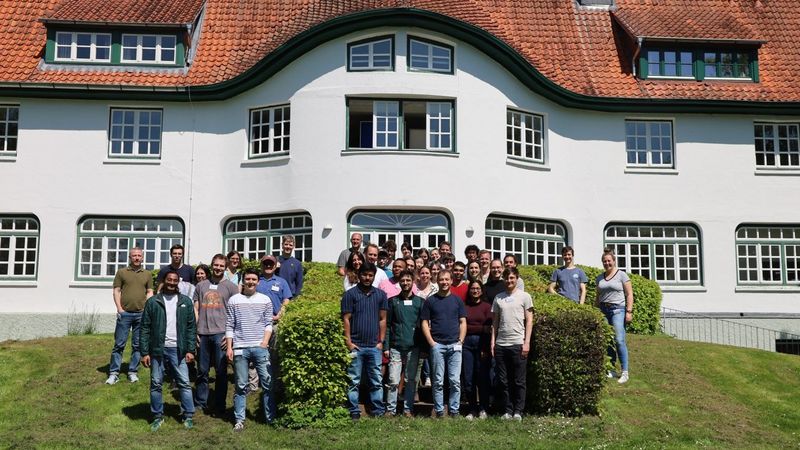 Text: Jennifer Fandrich
This year´s Spring School was for all of us new in a different way: it was completely organized by PhD students and Postdocs representatives (except for the organizational stuff that RTG coordinator Lea is to thank for).
Arriving with the train in smalltown Plön is quite beautiful: the station is placed directly to the lake area, so you already enjoy a beautiful view stepping outside the train. Everyone knows that with a full stomach you learn better, so starting with lunch seems about right. After some troubles with the wifi in the Posaunenhaus, we switched rooms and luckily coach Daniel Friedrich was nice and friendly and started his workshop Knowledge management for researchers finally in the new seminar room. Software tools like Zotero and Obsidian have been presented, hopefully something helpful for all upcoming PhD theses.
The workshop was followed by a RTG Conference with talks by PhDs and Postdocs. Aside from the science talks, there was also a presentation by Ole Pinner on the OceanAtmosWiki he set up with the aim of collecting general information others might find helpful as well as recommendations of good literature (the Wiki can be found here: ocean.miraheze. org/wiki/Main_Page). After dinner the poster session started with a lot of discussion on each topic.
The second day started for some of us quite cold and refreshing: with a swim in the lake. The first agenda point that morning was breakout sessions: Data Visualisation organised by Markus Reinert, a Q&A session with TRR project leaders about their career paths, moderated by Erika Henell, and even sport was included: a yoga session by Peter Dennert helped us refreshing our minds. After a short coffee break, Project Leader Martin Losch held his talk: What is a (ocean) general circulation model? A Q&A round was the science finish for the afternoon.
I can see clearly now the rain is gone
Luckily the rain that started in the morning stopped shortly after lunch so we could start our canoe trip. Like last year we divided into several canoes, Ole decided to go in a Kayak on his own and Manita Choucksey arrived to join the last canoe (thank you for waiting). Paddling with sun and joy to Plön, enjoy an ice cream and go back, it was again a wonderful trip.
The evenings were enjoyed outside at the lake or inside the "Spielehaus" with pool, kicker, ping pong games and a fire at the fireplace. Like last time, the last day was dedicated to career paths in academia and beyond: Former TRR project members Kerstin Jochumsen (BSH) and Valerio Lembo (ISAC – Bologna) as well as current member Gerd Baumgarten (IAP) and Anne Gerdes (intersoft AG) and Niklas Kühl (Hamburg Ship Model Basin) talked in small groups about their individual career path.
The Spring School's last workshop was held by Ulrike Schneeberg on Mental health for early career scientists. The workshop was a nice mix of input from Ulrike (e.g. about the typical stressors early career scientists experience) and exercises done in pairs and small groups. In the closing session, Florian and Lea shared a few updates about credit points for PhDs, reminded all early career scientists about the available funds for research stays in 2023, and asked for course suggestions. After that, the Spring School ended with the last coffee & cake break before everybody started their way back home.
Thank you everyone for making this Spring School such a lovely, warm and social event. We hope all of you enjoyed it as much as Lea, Paula and I did.