TRR181 @ Frankfurter Buchmesse 2019
Together with Springer Nature we organized a book presentation of our TRR book "Energy transfers in Atmosphere and Ocean" as part of the Springer-Buchreihe "Mathematics of Planet Earth" at the Campus Weekend of the Frankfurt Book Fair, the biggest Book Fair in the World.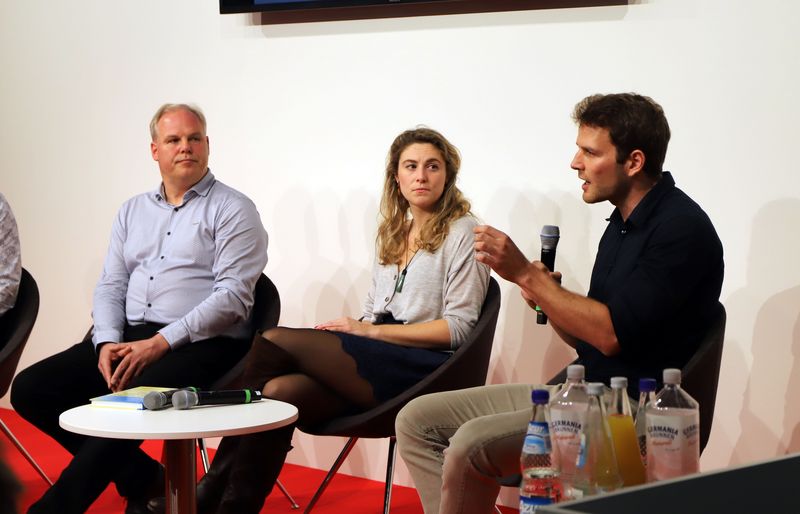 Over 300.000 vistors have been at this years Frankfurter Buchmesse - we were one of them: Our PI Armin Iske (Universität Hamburg) and our Postdocs Rebecca McPherson (Universität Hamburg) and Stephan Juricke (Jacobs University Bremen) were invited to a panel discussion, together with Renate Bayaz from Springer Nature TRR outreach coordinator Jennifer Fandrich organized the event. After everyone has arrived in Frankfurt on Saturday, October 19we met with Renate Bayaz and science journalist Mike Beckers from journal Spektrum der Wissenschaft, wo moderated the the panel discussion:"Mit Mathematik das Klima besser verstehen - Veranstaltung zur Springer-Buchreihe "Mathematics of Planet Earth".
You can find some impressions from the day in the picture gallery and video:
The panel discussion was a full success: Every seat was taken and people were also standing in the back, approximately 100 visitors listened to the half-hour discussion. After the panel discussion the "Ask the Expert" event from 14.30-16.00 at the Springer Nature booth with our TRR Experts was very busy: A lot of interested people and students asked our experts about ways into climate related science studies with a mathematic background and discussed the importance of explaining climate research in the time of global protests.
We are very glad to be able to present our book and work within the TRR at the Book Fair and to be part of this event – it was a quite effective and at the same time fun way to connect to a science-interested public.