Our fourth annual workshop on "Scales and scaling cascades in geophysical systems" will be held April 4-6, 2018 at "Haus des Sports" in Hamburg, Germany.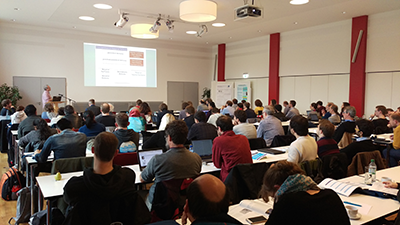 You can find more information (e.g. review, slides, picture gallery) here.
Complex processes involving cascades of scales pose ubiquitous challenges in natural science research. Often the smallest and largest scales are widely separated in such processes, as e.g. for the different dynamical regimes in atmosphere and ocean: gravity waves, small-scale turbulence and geostrophically balanced flow. Interactions between the smallest, largest, and intermediate scales connecting different dynamical regimes challenge our established theoretical or computational tools and the formulation of consistent models.
Wednesday, April 4 2018

Thursday, April 5 2018

Friday, April 6 2018

Time

Title

Speaker

Event

Title

Speaker

Event

Title

Speaker

08:00 – 08:45

Registration

08:45 – 09:00

Introduction

Carsten Eden

Talk 1

09:00 – 09:40

WEAKLY OR STRONGLY NONLINEAR MESOSCALE DYNAMICS?

ERIK LINDBORG

Talk 14

9:00-9:40

DYNAMICALLY CONSISTENT PARAMETERIZATION OF MESOSCALE EDDIES

PAVEL BERLOFF

Talk 26

09:00–09:40

SCATTERING OF INTERNAL TIDES BY GEOSTROPHIC FLOWS

JACQUES VANNESTE

Talk 2

09:40 – 10:05

Analysis of length, time, and velocity scales in the mesosphere

Victor Avsarkisov

Talk 15

9:40 – 10:05

Multiscale partitioning of available potential energy in energetically consistent ocean models

Remi Tailleux

Talk 27

09:40– 10:05

Asymptotic scale-dependent stability of surface quasi-geostrophic vortices: semi-analytic results

Gualtiero Badin

Talk 3

10:05 – 10:30

QNSE Theory of Turbulence in Rotating Fluids and the Nastrom & Gage Spectrum

Boris Galperin

Talk 16

10:05 – 10:30

Parameterising Eddy-Induced Lagrangian Transport

Josephine Park

Talk 28

10:05– 10:30

Multiscale asymptotics for strongly tilted tropical vortices

Rupert Klein

10:30 – 11:00

Coffee break

10:30 – 11:00

Coffee break

10:30 – 11:00

Coffee break

Talk 4

11:00 – 11:40

INSIGHTS INTO THE IMPACT OF MODEL RESOLUTION ON EDDY FEEDBACKS FROM THE PERSPECTIVE OF EDDY GEOMETRY

STEPHANIE WATERMAN

Talk 17

11:00 – 11:25

A geometric interpretation of vertical structure and eddy-mean flow interaction in the Southern Ocean

Mads B. Poulsen

Talk 29

11:00 –11:25

Model Uncertainty Quantification for Data Assimilation in partially observed multi-scale systems

Sahani Pathiraja

Talk 5

11:40 – 12:05

Energy transfers in internal gravity wave spectra

Dirk Olbers

Talk 18

11:25 – 11:50

Energy budget-based backscatter in a shallow water model of a double gyre basin

Milan Kloewer

Talk 30

11:25–11:50

Climate-Dependence in Empirical Parameters of Subgrid-Scale Parameterizations using the Fluctuation-Dissipation Theorem

Martin Pieroth

Talk 6

12:05 – 12:30

Downscale energy transfer from balanced to unbalanced regime

Manita Chouksey

Talk 19

11:50 – 12:15

Wave decomposition of meridional energy transports in Northern Hemisphere midlatitudes

Valerio Lembo

Talk 31

11:50 –12:15

Behaviour of Cloud Models as seen from Asymptotic

Analysis

Juliane Rosemeier

Talk 7

12:30 – 12:55

High-order balance-imbalance decomposition and interaction

Hossein Kafiabad

Talk 20

12:15 – 12:55

GLOBAL MODELING OF THE OCEANIC INTERNAL GRAVITY WAVE SPECTRUM

BRIAN ARBIC

Talk 32

12:15– 12:40

Stochastic subgrid-scale parameterization for one-dimensional shallowwater dynamics using stochastic mode reduction

Stamen Dolaptchiev

12:55 – 14:00

Lunch Break

12:55– 14:15

Lunch Break

12:40– 14:00

Lunch Break

Talk 8

14:00 – 14:25

Small-scale versus large-scale secondary gravity waves in the middle atmosphere

Erich Becker

Talk 21

14:15 – 14:55

PERTURBATION EQUATIONS FOR ALL-SCALE ATMOSPHERIC DYNAMICS

PIOTR SMOLARKIEWICZ

Talk 33 14:00-14:25

Potential vorticity redistribution by localised transient forcing in the shallow-water model

Michael Haigh

Talk 9

14:25 – 14:50

Laboratory experiments to study gravity wave emission from baroclinic fronts

Uwe Harlander

Talk 22

14:55 – 15:20

Simulating all-scale global weather with the Finite-Volume Module of the IFS

Christian Kühnlein

Talk 34 14:25-14:50

Velocity statistics for point vortices of the local α-models of turbulence

Giovanni Conti

Talk 10

14:50 – 15:15

Systematic Decomposition of the MJO and its Northern Hemispheric Extra-Tropical Response into Rossby and Inertio-Gravity Components

Christian Franzke

Talk 23

15:20 – 15:45

Influence of subgrid-scale parameterizations on the boundary layer development in ICONLEM

Jan-Niklas Welß

- entfällt -


14:50-15:20

Coffee Break

Talk 11

15:15 – 15:40

Efficient modelling of the gravity-wave interaction with unbalanced resolved flows: Pseudo-momentum-flux convergence vs direct approach

Junhong Wei

Talk 24

15:45 – 16:25

TOWARDS A SCALABLE MULTISCALE ANALYSIS OF GEOPHYSICAL DATA

ILLIA HORENKO

Talk 35

15:20– 15:45

Lagrangian averaged Euler-Boussinesq and primitive equations

Sergiy Vasylkevych

15:40 – 16:10

Coffee break

Talk 12

16:10 -16:35

Impact of filaments on the relative dispersion of surface drifters in the Benguela upwelling region

Julia Draeger-Dietel

Talk 25

16:25 – 16:50

Flow-induced Coordinates and Reconstruction Techniques for Transient Advection-Diffusion Equations with Multiple Scales

Konrad Simon

Talk 36 15:45-16:05

Front propagation in periodic flows for fast reaction and small diffusivity

Alexandra Tzella

Talk 13

16:35 – 17:00

Bayesian Inference for Ocean Diffusivity

Yik Keung Ying

16:50 – 18:30

POSTER SESSION

18:30 – 20:00

BUFFET

Haus des Sports
Sessions:
Turbulence
Gravity waves
Lagrangian aspects
Eddies/balanced flow
Comprehensive atmosphere/ocean modelling
Multiscale aspects
Parameterisations
Confirmed speaker are:
Brian Arbic (University of Michigan)
Jaques Vanneste (University of Edinburgh)
Illia Horenko (Institute of Computational Science ICS)
Pavel Berloff (Imperial College London)
Erik Lindborg (KTH Stockholm)
Stephanie Waterman (The University of British Columbia)
Piotr Smolarkiewicz (European Centre for Medium-Range Weather Forecasts)

Sponsored by Deutsche Forschungsgemeinschaft (SFB 1114, FOR 1898, TRR 181), this workshop addresses analytical and numerical techniques for the modeling and simulation of such multi-scale interactions, including homogenization, stochastic modeling, parameterizations for subscale processes, and structure-aware numerics. It aims to bring together meteorology, physical oceanography, and applied mathematics to foster collaborative research on the related demanding research problems.

There is no fee required to attend but registration until March 14th, 2018 is necessary.
Please register here.
Please submit your abstract and/or poster here.